There was a time when people burned lefties at the stake. A time when the left-handed were ridiculed and deemed as oddballs who didn't fit into society.
Why can't they just do things the Right Way?
But in sports being left-handed is often an asset. Except when it comes to kicking the pigskin. The NFL doesn't seem to care for left-footed kickers, based on how few we've seen in the league over the years.
Why Teams Don't Like A Mirror Image
At the Pro Football Reference website, you can pull up the page for any quarterback in NFL history and see which hand he threw the ball with. But a kicker's page doesn't tell you which foot he used to make his living.
Why are left-footers so disrespected?
It's probably because so few left-footed kickers and punters were used for many years. That's only changed in the last two decades, and only because one famous head coach preferred wrong-footers.
A left-footed placekicker requires a football team to make an adjustment. The placeholder has to position themselves on the opposite side facing the snapper. The football is heled with the opposite hand. While that may seem simple, in a game where precision and technique are pivotal, it's no small detail.
There have been few great left-handed quarterbacks. The vast majority of starting QBs in the NFL and college football have been right-handed. There have been exceptions: Steve Young, Kenny Stabler, and Boomer Esiason are the most notable southpaw QB, each playing in the Super Bowl. Then there was Michael Vick and Mark Brunell, who also had some fine seasons in the NFL as lefties.
But a left-handed QB also requires a team to change their techniques. Offensive linemen are trained to block for a QB who faces his right and is open to that side of the field, where he has the most vision obviously. A left-handed quarterback has an opposite "blind side," which requires a flip of the offensive line to give him the best protection. NFL teams are not keen on changing their blocking schemes, especially when offensive linemen have been playing the other way their entire career.
Placekickers Who Booted With Their Left Foot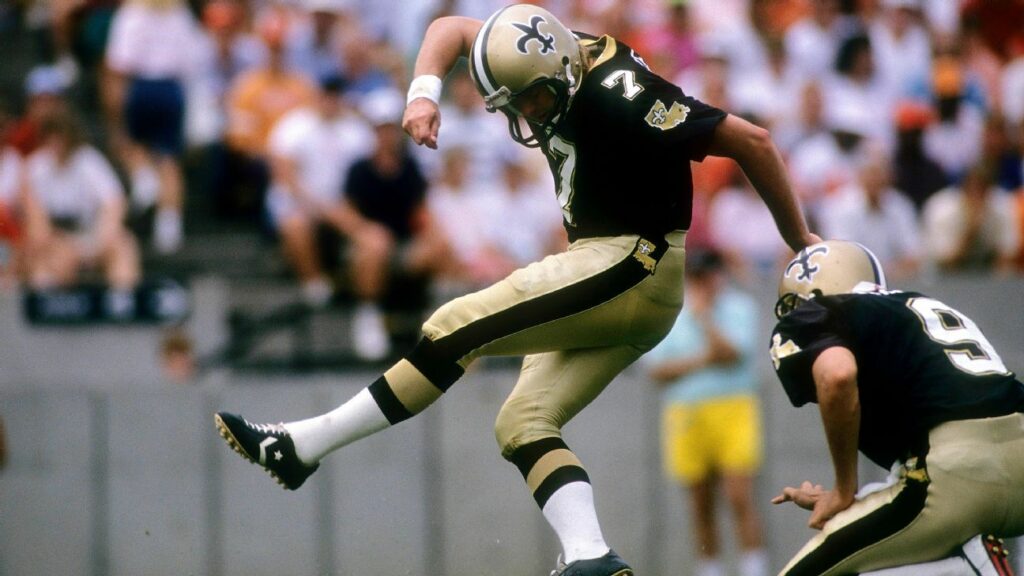 Left-footed placekickers don't make that big a difference to a team, though as we mention above, the placeholder must flip to the other side. Here's a rundown of the most notable left-footed placekickers:
Morten Andersen: A Hall of Fame kicker who was the all-time points leader in the NFL for many years, Andersen kicked for more than a quarter of a century in the NFL, from 1982 to 2007. Though he was mostly on mediocre teams in his stellar career, "The Great Dane" made one Super Bowl appearance with the Falcons in the 1990s.
John Kasay: He's well-known for costing Carolina a potential Super Bowl victory in 2003 by incurring a kickoff out of bounds penalty late in the fourth quarter which led to Tom Brady's game-winning drive.
David Akers: Nailed the longest field goal (at the time) at sea level at 63 yards in Green Bay.
Sebastian Janikowski: Longtime Raiders kicker, he made a 63-yarder at high altitude in Denver in 2011, and was so well-regarded that his team actually had him attempt a 76-yarder once (he obviously missed it).
Joe Nedney: Signature highlight of his career was booting a playoff game-winner as time expired against the Pittsburgh Steelers for the Titans.
Best Left-Footed Punters
The most prominent left-footed punters were: Lee Johnson, Chris Gardocki, Tress Way, Donnie Jones, Kevin Huber, Ryan Allen, Dustin Colquitt, Chris Jones, Ben Graham, Zoltan Mesko, Dave Zastudil, Brad Wing, and Rohn Stark.
The Patriots under Bill Belichick have looked for an edge in every aspect of the game. That's why they usually have a left-footed punter. From 2001 to 2018, every punt by New England was kicked by a left-footer: Ken Walter, Lee Johnson, Josh Miller, Chris Hanson, Zoltan Mesko, and Ryan Allen. The team won six Super Bowls during that span.
Apparently the ball spins different off a left-footed kickers toe, which makes it more difficult for a punt returner to catch.
According to research of NFL punters by Sports Illustrated in 2013, left-footed punters produce a slightly higher muff rate of 3.1% vs 2.5% for righties.